Whether you're upgrading to a more energy-efficient boiler, installing a new heating system or making changes to your existing system, the choices you make about the system or boiler you choose and how you use it have never been more important.  Thinking about replacing an old central heating system, changing radiators or installing a brand new system from scratch, we can provide all of the necessary parts and equipment to ensure that you can enjoy a warm house and hot water all year round. We have agreements in place with all major manufacturers that mean we can install high quality systems at competitive prices.
If your current central heating system is over 10 years old you could be wasting money on your heating bills compared to newer efficient systems. By replacing your old central heating system with one of our new energy efficient systems you could cut up to 40% off your heating bills.  We will calculate the correct radiator sizing for each room in your home giving you comfortable heat and efficient running costs.
Services Include:
Full central heating installation and Repairs
Radiator installation including designer radiators
Unvented (Mains Pressure) and Vented (Gravity) hot water cylinders
Timeclocks, programmers inc. the learning thermostats (Nest Thermostats)
Replacing pumps, motorised valves and expansion vessels
Powerflushing and heating circuit magnetic filter installation
Boiler installation and replacements
Extended boiler warranties of up to 15 years
Fault finding and repairs
Gas and Oil boiler safety check services
Gas and Oil landlord safety certificate services
Oil tank and base installation
Oil lines, fire valves and oil lifters (tiger loops)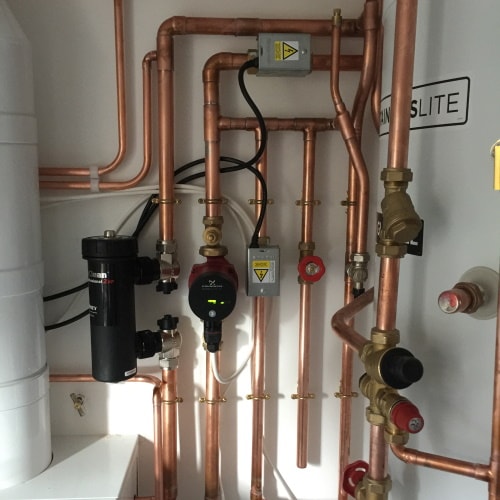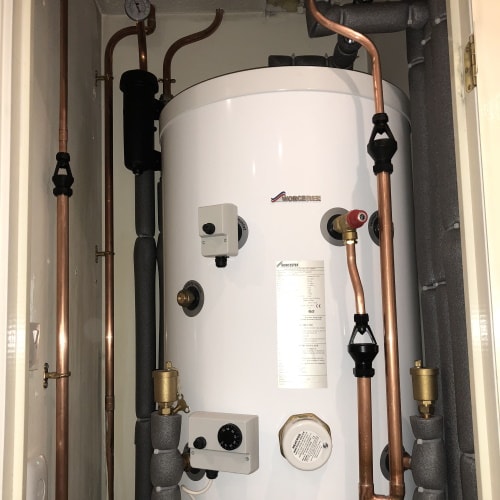 A more efficient central heating system can save money and add more heat
Combi boilers are an efficient and effective means of providing heating and hot water. They negate the need to take up space in the loft or bathroom with a hot water cylinder or hot water tank and they deliver hot water to the taps on demand when required.
As well as central heating systems, we are also experienced in the installation of heating systems that use renewable energy sources such as Solar Panels and Air Source Heat Pumps, please view our other services pages for more information. Call today or click 'Contact Us' and complete our online request form in order to receive a free, no obligation central heating quotation to suit your needs.
Save Energy And Reduce Costs Even More
Advanced heating controls on our boilers prevent wasted gas, heat and CO2 emissions by regulating your boilers usage. Rooms can be kept at a comfortable temperature and hot water provided without unnecessary waste by tailoring your central heating system to suit your needs.
Separate heating controls include the programmer room thermostat, the hot water cylinder thermostat and the thermostatic radiator valves (TRV's); all control options which were previously unavailable on older boiler models.
Unvented Hot Water Cylinders
Operating efficiently under higher pressures, unvented cylinders are suitable for homes with a new or existing sealed heating system or open vent boiler. Ideal for larger properties with multiple bathrooms, heating systems using an unvented cylinder can often provide a higher level of hot water than a combi boiler.  Unvented hot water cylinders were only made legal in the UK in 1986, but have since grown rapidly in popularity. In an unvented system there is no cold water tank – instead, the sealed hot water cylinder is fed directly by the cold water mains. Since they are operating at mains pressure, they offer much better flow rates, meaning your shower and bath performance should be higher.
The other major benefit is that you don't need to maintain a cold water tank in the loft (which vented systems require). This is good news since not only does it free up space, it also removes the potential freezing issue during long cold winter periods.  In addition, since you aren't relying on gravity to move the hot water around the home, the unvented cylinder can be located pretty much anywhere in your property.  Other advantages of installing an unvented system include reduced noise in the system (since there is no cold water filling of the water storage cistern), and since there is no water storage cistern and the system is essentially sealed, the cold water is not at risk from contamination.
Since water increases in volume as it gets warm, unvented cylinders need to include a mechanism that allows the expansion to take place, thereby keeping the cylinders operating at a safe pressure.  There are two methods of allowing this expansion to take place safely. The first is the bubble top unit, which uses an internal air bubble that is produced and trapped at the top of the cylinder when it is installed. The other type is the external expansion unit that utilises an expansion vessel to contain the expanded hot water.
The major issue with unvented hot water cylinders is that since hot water flow depends on the cold water main pressure; if for any reason the mains water is turned off, your home will be without access to any hot water.
Since unvented hot water tanks operate at higher pressure than vented systems and have additional safety features installed, these cylinders need to be installed by boiler specialists who hold a qualification that complies with G3 of building regulations. This means they tend to be far more expensive to install than traditional vented hot water systems.
Vented hot water systems
Vented hot water tanks are still the most common type of hot water system found in the UK. Unlike newer unvented tanks, these copper tanks are fed by cold water from a header tank (normally located in the loft) and they use gravity to drive the hot water around the home. A vent pipe links the vented hot water cylinder and the cold water in the header tank.
As with the unvented system, expansion of warm water is still an issue, but in this case the expansion simply takes place via the vent pipe and in the header tank.
The hot water pressure tends to be governed by the height of the water tank above the tap or shower feed. This means that although on the ground floor of the home the pressure might be excellent, in rooms on upper floors the pressure will be lower. As a result, many showers in homes with vented hot water tanks use electric pumps to drive the hot water to the shower at increased pressure.
Vented hot water cylinders are far less complicated than the pressurised vented systems and for this reason they are much simpler to maintain and install. This makes them a far cheaper option when compared to the unvented system.
What our customers say
Chris and his team were recommended to fit a new kitchen for me. They took care of everything, removal, fitting new kitchen, plastering and decorating. This team could not do enough for me and were key in helping me achieve the kitchen of my dreams. I cannot recommend them enough. Thank you Chris for understanding how much this meant to me and for making it stress free.
Sharon Richards, Bedwas
What our customers say
Highly recommend Chris and Mike, they designed and fitted a bespoke Bathroom for myself and I couldn't be happier with the end result. Very professional and clean, they laid film down on the carpets before they started work and always tidied up after themselves. Would definitely use again and would recommend them to friends and family.
Paul Barnes, Caerphilly
What our customers say
I would highly recommend Chris and his team. They are very professional and nothing is too much trouble. They fitted a new downstairs toilet and checked with me at every stage about fixtures and fittings and it was completed to a very high standard. I would highly recommend them. Thank you, a very happy customer!
Suzanne Whiting, Bedwas
What our customers say
A big thank you to Chris and the Truscon team. They transformed our 1970's small toilet room and separate bathroom into a seemingly more spacious modern bathroom.Their works included building works, plastering walls and ceilings, tiling, plumbing and electrics all done in a highly professional manner. The works were started and completed at the agreed times and dates. We are very pleased with the results!
John, Hendredenny
What our customers say
Chris and the team fitted my new heating system. Excellent job, very professional, clean and tidy and health and safety compliant with the COVID restrictions. If you are looking for work to be done on your property you will not find a better company that this. Highly recommend.
Darren Farr, Caerphilly
What our customers say
Chris gives value for money on the services his team offer. What makes TPS stand out is attention to detail. I'd recommend Truscon Property Services for any level of building work
Darren Barry
What our customers say
They came recommended and didn't disappoint! Had a new Worcester boiler, pipe work and new radiator and even put a cupboard up! Arrived on time, left no mess and did a great job. Will be passing on the recommendation and wouldn't hesitate to use again, thanks both!
Colette Lewis, Trethomas
What our customers say
Truscon have already been working with us for the last almost 2 years on a huge renovation so had no hesitation in asking him to do a smaller job on a property in Cardiff. Another great job thanks Chris & Mike!
Christine, Cardiff